Flaman Grain Systems Retail Locations
Home/
Flaman Grain Systems Retail Locations
Saskatoon, Saskatchewan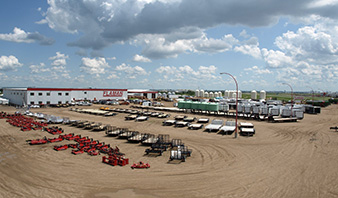 Saskatoon is home to our Flaman Grain Systems division. We offer a wide selection of small, mid-size, and full-size grain cleaning and seed cleaning equipment, with both stationary and portable options to suit the needs of your operation.

At Flaman Grain Systems, we sell grain cleaners, such as air/screen cleaners, clean to seed cleaners, and dockage cleaners, along with colour sorters and BoMill grain sorters. Our specialty equipment includes Perten grain analyzers to test moisture and protein, seed counters, and more.

We specialize in full solution grain handling setups including a wide range of bucket elevators, drag conveyors, and Walinga pneumatic blower systems. Our turnkey offering also includes NECO grain dryers, grain cleaning and processing plants, and automated bin sites.

Flaman Grain Systems is Western Canada's largest custom screen manufacturer. We offer round, slotted, and triangle screen types with either aluminum or wood frames. We also sell a variety of parts and accessories and offer service for our equipment.

It's important to us that you have peace of mind before and after your purchase. That's why we believe in supporting you from start to finish. Our Grain Systems team members are experts in grain handling, grain drying, and grain cleaning. When you buy from us you are not just buying a product, you are gaining the ongoing support of a team with over 50 years of experience.

If you are thinking about adding grain cleaning, drying, or handling equipment to your operation, contact us to talk to one of our Grain Systems specialists. We look forward to working with you to find the right product for your business needs!